What You Need to Know About
New Jersey Pool Inspections
Pool issues are common and can be major repairs. For example, a leaking pool can be a difficult and expensive problem to fix. A pool with improperly wired electrical receptacles and connections can be a serious electrical-shock hazard.
Pool inspections are not part of the NJ home inspection. I highly recommend you hire a qualified pool inspector to properly inspect your pool. When hiring a pool inspector, look for someone who is a member of the National Spa and Pool Institute (NSPI) and the Association of Pool and Spa Professionals (APSP). Also ask about the inspector's dedication to continuing education. You want to make sure that the inspector is up to date on the latest pool technologies and inspection techniques.
A proper pool inspection includes evaluation of all visible components.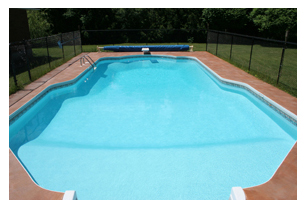 This includes all motors, pumps, and equipment. It also includes all electrical receptacles, connections, and grounding, as well as inspection of any fences, gates, walkways, lighting, pool surroundings, diving board, slide, deck, and steps associated with the pool. You should ask for a narrative pool inspection report rather then a checklist because the narrative report will contain more useful information. The report should detail the condition of all visible pool components and equipment.
Most pool inspectors work year-round performing NJ pool inspections. Of course, it is much better to have the pool inspected when the pool is open. If the pool is not open, the pool inspector will pull back the cover in some areas. Sometimes a camera system is used to inspect the pool when it is closed. Please ask your pool inspector about the limitations of the pool inspection if the pool is covered.